Abernathy Family Reunion


Class Of 1900


Not a member?
JOIN HERE
Find and click on your name.

WHO'S ONLINE NOW
No registered users are online right now.
WHERE ARE THEY NOW

WHERE WE LIVE
Who lives where - click links below to find out.

23 live in Alabama
1 lives in Arizona
5 live in California
2 live in Colorado
2 live in Florida
13 live in Georgia
10 live in Illinois
8 live in Indiana
2 live in Maryland
3 live in Michigan
2 live in Nevada
2 live in New Jersey
3 live in New York
1 lives in North Carolina
8 live in Ohio
1 lives in Oregon
2 live in Pennsylvania
6 live in Tennessee
1 lives in Texas
1 lives in Utah
2 live in Virginia
1 lives in Germany
132 location unknown




Show Family Members on map
UPCOMING BIRTHDAYS

MISSING FAMILY MEMBERS
Know the email address of a missing Family Member? Click here to contact them!
Welcome to the Abernathy Family Reunion Website.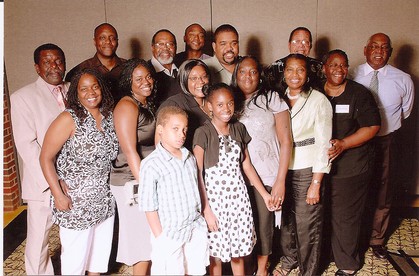 This website is the official website for the relatives of George (1853-1943) and Manerva (1855-1948) Abernathy of Linden, Alabama. George Abernathy was the son of Jacob (Jake) Abernathy who was born a slave in 1823 in South Carolina. This website will serve as our means of communication as we prepare for all Abernathy Family Reunions. This website will also serve to enable us to connect and reconnect family with family throughout the year. Therefore, please join the site. It is free.
Go to the member profile, find your name, and follow instructions to join. If your name can not be located, go to the top icon, click on contact us, and let us know. We will make the correction. Upload family photos and information you deem important. Remember, you can e-mail family from this site as well as take the family poll and quiz etc. Also, be sure to have everyone you know in the family join the site. Our goal is to celebrate family and praise God for the bountiful blessings he has bestowed upon each and every member. Therefore, be sure to take the time to browse the site.
Again, Welcome.
Larry Abernathy, Family Reunion President
ABERNATHY FAMILY REUNION TWITTER ACCOUNT
THE ABERNATHY FAMILY REUNION TWITTER ACCOUNT IS ALIVE. FOLLOW FOR UPDATES. EXPLORE A FUN WAY TO COMMUNICATE ABOUT THE REUNION IN REAL TIME. POST YOUR PICTURES AS YOU ARE TRAVELING TO THE REUNION. POST YOUR PICTURES ONCE YOU ARE AT THE REUNION. USE HASTAGE # AFR47. FOLLOW ON TWITTER @AFReunion47.
The 47th Abernathy Family Reunion
Hi Family,
Registration is due by June 30, 2017
I, in the purest form, truly love my family. I look forward to seeing all of you soon in Louisville, Kentucky.
Here's a snapshot of our itinerary to help you finalize travel plans:
Itinerary Reunion is from July 20-23
20th THU- Registration/Check-in
21st FRI- 1. Plush bus tour of Louisville sites (stops/box-lunch provided). Bus leaves at 10 am
2. Mini Mixers (by age group) – Hospitality Room
3. Luxurious Banquet (dinner)
Banquet theme is : Talk Derby to Me
(Kentucky Derby theme attire is encouraged).
Suggestions for attire
Female: Dress (solids/florals) and hat and/or fascinator (head gear).
Male: Linen, seer-sucker, sports coat with matching tie (bow tie) and handkerchief, and fedora hats
22nd SAT- 1. Picnic at the beautiful Tom Sawyer Park-Shelter 1
2. Open Evening to enjoy Louisville your way (suggestions to be provided)
23rd SUN- 1. Church Service at Burnett Ave. Baptist Church (Service Begins at 12 pm)
2. Lunch/Brunch to follow
It's so hard to say goodbye! Approximately 4pm (Farewell to the family)
Most people book hotel rooms through 24th Monday
I hope you make new connections and reinvigorate some older family connections while in Louisville. I encourage you to live in the moment as we are amongst each other as tomorrow is promised to no one. Ask "What's your name again?" as many times as you please. Do not wait until you're home and say I can't remember his/her name and I wish I'd gotten his/her number or email.
Family gatherings are not limited to July for the Abernathy's and extended family. Make them year-round, plan trips together, enjoy concerts, birthdays, and church together.
I cannot wait for the FUN I'm absolutely sure we're going to have together in July. I hope you feel the same way.
Snapshot of Expenses:
Registration $120 adult; $50 child; 5 and under free
T-Shirt $10 adult; $7 kid
Hotel $119 a night
No cost to book hotel now.
Please register now online or by mail (simply print the form and mail it off)
Registration by email is also accepted. Contact me at gclbates@yahoo.com
If you call, please leave a voicemail 205-370-6366 or text me
With Love,
Glorious Bates
Abernathy Family Reunion 47 Host
Make all checks payable to the following:
Ms. Glorious Bates P.O. Box 20544 Louisville, Kentucky 40250.
Please write in the memo section of your check, Abernathy Family Reunion.
YOUR EVENT IS READY!!!!!!
You May Register for the Reunion by going to the 47th Family Reunion icon on the top left side of this page. Or you can click on the welcome to Louisville, Kentucky icon below:
Welcome to Louisville, Kentucky
If you wish to print your registration form to send with your money, please do so. We would prefer for you to register online but both forms of registration is welcome.
Please inform all family about the reunion, especially those who are not online with us. See you in Kentucky.
YOU MAY BOOK YOUR HOTEL RESERVATIONS.
THE ABERNATHY FAMILY REUNION JULY 20TH - JULY 23RD
A dedicated website is now available for the Abernathy family reunion attendees to book their hotel room online. Reservations can begin immediately at this web address: Click on the icon below:
https://aws.passkey.com/e/16340547 or you may book by phone by calling 1-800-228-9290 and mentioning the Group Name: Abernathy Family Reunion
Please share the above address with all members of the family and any friends who wish to attend.
We will be staying at the Marriot Louisville East
See you in Kentucky.
SEED MONEY NEEDED
As you know it is time for all Family Reunion Chapters to send the SEED MONEY to the Kentucky Chapter. They are hosting the 2017 Abernathy Family Reunion in Louisville, Kentucky. For those individuals new to the reunion, please go to the top on the left, click on and read " Funding the Reunion"
It is also time to meet with your chapter to make sure they are beginning to plan to attend. Tell everyone you know when and where the reunion will take place. We hope to see everyone in Kentucky.
Send your CHAPTER SEED MONEY to:
Ms. Glorious Bates P.O. Box 20544 Louisville, Kentucky 40250.
Please write in the memo section of your check, Abernathy Family Reunion. Chapter Seed Money or CSM.
FAMILIES HELPING FAMILIES
Again, it is time to set aside your contribution to families helping families. As you know, we wish to have as many families with children attend the reunion in order to continue this wonderful family reunion tradition. In order to do so, we send our contribution of $100 into the host reunion chapter to help reduce the cost of the registration fees. So we are looking forward to as many families as possible sending in their $100. For those individuals who are new to the reunion, please go to the top left, click on and read, "Funding the Reunion"
Send your FAMILIES HELPING FAMILIES MONE TO THE GLORIOUS BATES at the above address. Please write in the memo section of your check, Abernathy family reunion - familes helping families or fhf.
6TH ANNUAL RALPH DAVID ABERNATHY CIVIL RIGHTS BREAKFAST A SUCCESS
Dear Family,
I would like to thank all those who helped to make the sixth annual RDACRB celebration (Ralph David Abernathy Civil Rights Breakfast Celebration) a success. We had the usual packed house . Pastor Handy the pastor of Dexter Ave King Memorial Baptist Church gave an outstanding tribute to RDA. We were proudly represented by an excellent number of family members including Aunt Susie Hildreth. I especially want to thank those who sacrificed and gave a special contribution for this cause.:Ms Solvenia Coats, Mr and Mrs Bernis Abernathy, Mr and Mrs Donald Outland, Mrs Susie Hildreth, Dr and Mrs Randy Howard, Mr and Mrs Grover Franklin, Mr and Mrs Winston Muhammad, Dr and Mrs James Glover, Ms Elizabeth Abernathy, Mrs Athalee Anderson, Mr and Mrs Robert Evans, Mr and Mrs Carlton Jackson, Mr Gregory Abernathy, Dr Veronica Abernathy, Col and Mrs Julius Coats and Mr and Mrs Wilmer Hildreth. Thank you from the bottom of my heart. My vision is that one day his birthday and the contributions he made to the Civil Rights Movement will be recognized nationally. Let's continue to keep the RDA legacy alive. Love You Much❤
Dr. William Abernathy
2016 RALPH DAViD ABERNATHY SCHOLARSHIP RECIPIENTS
We are so very proud of our young family members! They continue to advance. This is a tribute to the support, thoughts, and prayers of all of our family.
The following family members are the 2016-17 Ralph David Abernathy Scholarship Recipients:
Student College Attending Relative
1. Kathelin Bishop Alabama State Univ. Mother, Teressa Bishop
2. Aisha Crawford Alabama A & M Grandparents, Berni and Cynthia Abernathy
3.Felix Crutcher Univ. of Alabama, Birmingham Grandparents, Gloria and Donald Outland
4. Caleb Douglas Daytona Beach College Parents, Pamela and Cecil Douglas
5. Noah Douglas Bethune Cookman Parents, Pamela and Cecil Douglas
6. Blake Glover Sacramento State Univ. Grandparents, Eldridge & James Glover
7. Kyle Glover Univ. of CA, Santa Cruz Grandparents, Eldridge & James Glover
8. JayLynn Hardrick Indiana Univ. Purdue Parent, James Hardrick
9. Rico Thomas Alabama A & M Grandparents, William & Carletta Abernathy
Each recipient was awarded $180.00.
Thanks to all that contributed to the scholarship funds. God Bless You All.
Thanks to the following members who have contributed the $60.00 to the Ralph David Abernathy Scholarship Fund:
Susie Hildreth, Patsy Coats, Isaac Smith, Debra Bates, Garlen Abernathy, Veronica Abernathy, Narvin Yarbrough, Brenda Jamar, Barbara Carter, Gregory Abernathy, Geraldine Abernathy, Elizabeth(Diane) Abernathy, Athalee A. Anderson, Jacqueline Thomas, Solvenia C. McCormick. Gloria A. Outland, Eldridge A. Glover, James(Mac) Glover, William(Billy) Abernathy, Douglas Abernathy, Glorious Bates, James Hardrick, and Carol Bell.
This is a total of 23 families/households.
THANK YOU NOTES:
Dear Abernathy Family,
We truly appreciate receiving the Ralph David Abernathy Scholarship Funds. It came at a great time to be used to purchase books for next semester. WHAT MAKES LIFE GOOD: One of the good thngs of life that God has given is the family. Parents and children, aunts and uncles, cousins and even friends are God's way of making us feel that we have a special place in the world, somewhere that we belong. Just know that your acts of kindness are appreciated beyond words.
Love,
Kyle and Blake Glover
Dear Abernathy Scholarship Committee:
Thank you for selecting me to receive a scholarship for this academic school year. It will go toward purchasing my books for the Spring semester. Thank you again for being a blessing to me.
Sincerely,
Noah Douglas
Dear Family,
I just wanted to take this time to thank the members of The Abernathy Family for the wonderful blessing of receiving a $180 check to go toward my education. I greatly appreciate your generosity for contributing to my education. I am proud to have gained an additional bonus that will go toward my books and tuition. Thank you again and have a blessed day.
Sincerely,
Caleb Douglas
Dear Abernathy Family,
As I prepare to graduate from the University of Alabama at Birmingham, I'm reminded of your constant love and support. Thank you for the scholarship, prayers, and well wishes. I appreciate it.
Love,
Phil
HOME GOING FOR JERRY ABERNATHY
It is with sadness that we inform you that our relative, Jerry Abernathy, passed on Monday, July 10, 2017. His serviced will be on tomorrow, Monday July 17, 2017. Visitation will be from 5 pm - 7pm and funeral services will begin at 7:00 pm. Services will be held at Mt. Ararat Baptist Church 425 Howard Avenue, Brooklyn New York 11233. Please pray for the family.
HOME GOING of CALVIN BATES
The Funeral will occur on Friday, April 7, 2017 at 11 am at Tabernacle Baptist Church. It is located at 600 Center St. N. Birmingham, Alabama 35204. The funeral home in charge is Brooks Family Funeral Home. (205-744-4171) Please send all sympathy cards and all condolences to The Bates Family - 820 Center Way SW. Birmingham, Alabama 35211. Please keep the family in prayer.

PRAISE REPORT:
Hello Family,
I have completed my chemo series and the doctor said there is no evidence of cancer at this time in my body! Praise be to God! Prayer is awesome! Thank you for all your prayers and well wishes.
Debra Bates was blessed to received a Kidney transplant and no longer has to be on dyalyses. She is doing great. Isn't God good.
Family, please continue to remember to keep
Athalee Anderson
in prayer. Remember the prayers of the righteous availeth much.