Abernathy Family Reunion


Class Of 1900


Not a member?
JOIN HERE
Find and click on your name.

WHO'S ONLINE NOW
No registered users are online right now.
WHERE ARE THEY NOW

WHERE WE LIVE
Who lives where - click links below to find out.

23 live in Alabama
1 lives in Arizona
5 live in California
2 live in Colorado
2 live in Florida
13 live in Georgia
10 live in Illinois
8 live in Indiana
2 live in Maryland
3 live in Michigan
2 live in Nevada
2 live in New Jersey
3 live in New York
1 lives in North Carolina
8 live in Ohio
1 lives in Oregon
2 live in Pennsylvania
6 live in Tennessee
1 lives in Texas
1 lives in Utah
2 live in Virginia
1 lives in Germany
133 location unknown




Show Family Members on map
UPCOMING BIRTHDAYS

MISSING FAMILY MEMBERS
Know the email address of a missing Family Member? Click here to contact them!
Welcome to the Abernathy Family Reunion Website.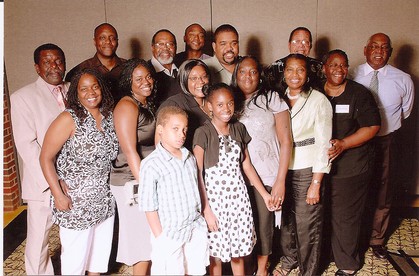 This website is the official website for the relatives of George (1853-1943) and Manerva (1855-1948) Abernathy of Linden, Alabama. George Abernathy was the son of Jacob (Jake) Abernathy who was born a slave in 1823 in South Carolina. This website will serve as our means of communication as we prepare for all Abernathy Family Reunions. This website will also serve to enable us to connect and reconnect family with family throughout the year. Therefore, please join the site. It is free.
Go to the member profile, find your name, and follow instructions to join. If your name can not be located, go to the top icon, click on contact us, and let us know. We will make the correction. Upload family photos and information you deem important. Remember, you can e-mail family from this site as well as take the family poll and quiz etc. Also, be sure to have everyone you know in the family join the site. Our goal is to celebrate family and praise God for the bountiful blessings he has bestowed upon each and every member. Therefore, be sure to take the time to browse the site.
Again, Welcome.
Larry Abernathy, Family Reunion President
The Montgomery chapter of the Abernathy Family Reunion is pleased to host the upcoming family reunion for July 2018. We have been working hard to make your stay a joyful and memorable one. We look forward to seeing you in Montgomery.
William Abernathy
DATE FOR THE 48TH FAMILY REUNION: JULY 19-22 2018
The hotel: Embassy Suites - 300 Tallapoosa St., Mont., Al. 36104
Thank you for selecting Embassy Suites as host hotel for your upcoming event. Your group has been assigned a group code to alleviate confusion during the reservation process. The code assigned to your group is AFR . This code may be used when booking at 1-800-Embassy (362-2779), online at www.embassysuites.com, or by calling the hotel directly at 334-269-5055 Ext. 1092. Date are July 19 - 22, 2018. THIS DEAL IS SOLD OUT.
Due to an unanticipated large number of family reunions taking place in Montgomery on the same weekend as our famiy reunion, we are unable to obtain additional blocks of rooms. But we are asking you to make reservations at this hotel with a rate of $174.00 a night for a standard king or two double bed suites if you use your AARP coupon. Even if you are uncertain about attending the reunion, I still suggest that you make reservations as soon as possible. If you are unable to attend, you can still cancel the reservation 48 hours prior to the event without any financial penalty. If you wait close to our reunion date, there may not be any rooms available at this hotel. Please pass this information along to all family members who may not have received it. Again, I cannot over emphasize the need for early hotel room reservations.
PARKING
There is currently a charge of $14 plus tax for guest's overnight self-parking. Valet parking is available for $21 plus tax per day. This is subject to change at any time.
We only have a certain number of rooms blocked off and cannot block off additional rooms until these are booked. Therefore we urge you to make your reservations asap, even before the end of lthe year. You do not have to pay until you arrive. Fill these rooms so that we can book more rooms. Thank you.
William Abernathy Jr.
Thanks to the Chapters who have sent in their Chapter Seed Money. 1. East Chicago Chapter, 2. Charlotte, 3. Linden, and 4. Chicago.
Thanks to those who have sent in their Families Helping Families Money . 1. Douglas Abernathy 2. Minnie Berfield, 3. Tony Abernathy 4. Larry and Regina Abernathy 5. Gloria Outland, 6.Robert and Jean Evans, 7. Dr. Barbara Carter, 8. Dr. Randy Howard, 9. Bernis and Cynthia Abernathy and 10. Hazel Franklin 11. Dr. and Mrs. John Cloyd, 12. Elizabeth Abernathy 13. Mr. and Mrs. Winston Muhammad. 14.Greta Abernathy 15. Debra Bates 16. Phillip Abernathy
SEED MONEY NEEDED
As you know it is time for all Family Reunion Chapters to send the SEED MONEY to the Kentucky Chapter. They are hosting the 2017 Abernathy Family Reunion in Louisville, Kentucky. For those individuals new to the reunion, please go to the top on the left, click on and read " Funding the Reunion"
It is also time to meet with your chapter to make sure they are beginning to plan to attend. Tell everyone you know when and where the reunion will take place. We hope to see everyone in Kentucky.
Send your CHAPTER SEED MONEY to:
Dr. William Abernathy 605 Seminole Dr. Montgomery, Ala. 36117
Please write in the memo section of your check, Abernathy Family Reunion. Chapter Seed Money or CSM.
FAMILIES HELPING FAMILIES
Again, it is time to set aside your contribution to families helping families. As you know, we wish to have as many families with children attend the reunion in order to continue this wonderful family reunion tradition. In order to do so, we send our contribution of $100 into the host reunion chapter to help reduce the cost of the registration fees. So we are looking forward to as many families as possible sending in their $100. For those individuals who are new to the reunion, please go to the top left, click on and read, "Funding the Reunion"
Send your FAMILIES HELPING FAMILIES MONEy to William Abernathy Jr. at the above address. Please write in the memo section of your check, Abernathy family reunion - familes helping families or fhf.
THE RALPH DAVID ABERNATHY CELEBRATION BREAKFAST 2018
The Ralph David Abernathy( RDA) Breakfast Celebration will again take place on March 17th. I am asking for you continued support of the event and recognition of Uncle Ralph's contribution to the Civil Rights Movement. I am again asking for $50 contribution from as many family members as possible to support our ad and support of the Guides Right Program which mentors young men in our community. Presently we have 50 kids enrolled in our Kappa Kids, Kappa Knights and Kappa League. Due to the fact that the event is at hand please send in your contribution as soon as possible as we are in the process of finishing the ad booklet.
We always have the Abernathy Family come and support this event. If you have never attended, you are missing a treat. Please consider putting this on your list of things to do. If you have attended, we hope to see you this year also.
Make checks out to MAC, Kappa Alpha Psi and send to : Dr. William Abernathy, 605 Seminole Dr. Montgomery, Alabama 36117.
Please keep Kevin Nero in your prayers as he is having some serious health issues. Kevin is the brain child for this event and puts his heart and soul into making it a continued success. Thanks in advance. For those of you who would like to attend, the time is 9 am on the above date.
Sincerely,
William Abernathy
2017 RALPH DAViD ABERNATHY SCHOLARSHIP RECIPIENTS
We are so very proud of our young family members! They continue to advance. This is a tribute to the support, thoughts, and prayers of all of our family.
The following family members are the 2017-18 Ralph David Abernathy Scholarship Recipients:
Student Relative
1.Troy Lee Alves Jr. Troy and Alyesia(Abernathy)Troy
2. Erica Grant Nichele R. Grant
3. Blake Glover James Glover (Parent)/Grandparents, Eldridge & James Glover
4. Rico Thomas Rico and Kim Thomas (Parents)/Grandparents, William & Carletta Abernathy
Each recipient was awarded $495.00.
Thanks to all that contributed to the scholarship funds. God Bless You All.
Thanks to the following members who have contributed the $60.00 to the 2017 Ralph David Abernathy Scholarship Fund:
**** 2017 Donors
1. Cecil and Pamela Douglas, $60.00
2. Aaron Abernathy, $60.00
3. Anthony Abernathy, $60.00
4. Wilmer Hildreth Jr., $60.00
5. James and Eldridge Glover $60.00
6. James(Mac) and Monique Glover $60.00
7. Ruby Bell. $60.00
8. Carol Bell. $60.00
9.Debra Bates. $120.00
10. Isaac and Annette Smith. $60.00
11. Julius and Patsy Coats. $60.00
12.Gregory Abernathy. $60.00
13. Solvenia C. McCormick. $60.00
14.Greta Abernathy $60.00
15.Susie Hildreth $60.00
16.Bernis and Cynthia Abernathy $120.00
17.Gloria Abernathy Outland $60.00
18.Athalee Abernathy Anderson $60.00
19.Geraldine Abernathy. $60.00
20.Elizabeth Abernathy $60.00
21.William and Carletta Abernathy $60.00
22. Douglas Abernathy $60.00
23.Anise Abernathy. $60.00
24.Larry and Regina Abernathy $60.00
25.Alicia Samuels $20.00
26.Ora Abernathy $60.00
27.Annie Abernathy Allan. $5.00
28.Barbara Carter. $60.00
29. Unknown Donor $20.00
30.Robert and Jean(Abernathy) Evans $60.00
31.Hazel and Grover Franklin. $60.00
32. H.B. Samuel Franklin $60.00
If any errors have been made please contact Eldridge: eglover707@att.net.
God Bless All.
With Sympathy
Issac Smith Jr. has passed. The funeral will be on Saturday, February 10, 2018 at one o'clock. It will be held at the Tabernacle Baptist Church in Birmingham, Alabama.